The last three days have been chock-full of country music, beer, the outdoors, mud, cowboy boots and camping– not exactly my usual scene. All this and I'd have to say my first BamaJam experience in Enterprise, Alabama (along with 142,000+ other people) was pretty dang good. Hunter's birthday was Friday the 4th and we headed up Thursday along with his parents and friend Carley. We had a camping spot on-site but stayed at a different one a few miles away with full electric and sewer hook-up — luckily. I'm not sure how I would have survived actually roughing it or sleeping in a tent for 3 1/2 days.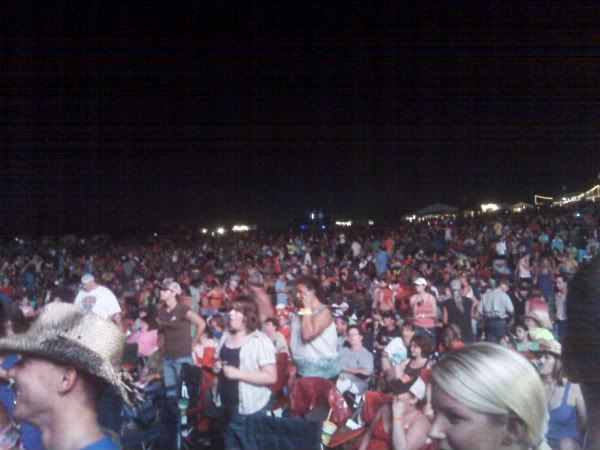 People were everywhere! The first night we saw Chris Young (below), Miranda Lambert, Dierks Bentley and the Zac Brown Band — all so good.
I loved Miranda's sky high heels but it's kind of hard to see them here.

Michele, Hunter and me
To kick off the second day we made a trip to The Barn and Hunter bought me my first pair of cowboy boots (even though it was his birthday — I made up for it by giving him a pair of Costas he'd had his eye on). I guess I wasn't country enough for Bama. I put on my new boots, a denim sundress and we set up our chairs early and settled in for a full day of concerts.
Hunter loves Colt Ford and he was pretty good. I liked his little sidekick Lindsey Haggar. We've seen them before in concert and she always looks cute. I loved her boots and cutoffs with the country floral top.
Here's Carley and me with one of the guys who played with Colt Ford.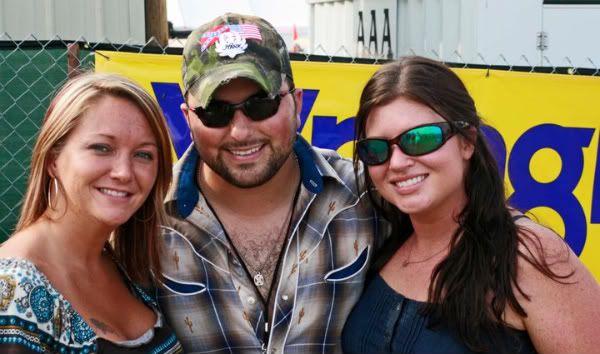 Blackberry Smoke, who I hadn't heard of before, was so good I had to download their whole album. Their style was pretty cool too. I love those glasses and this song.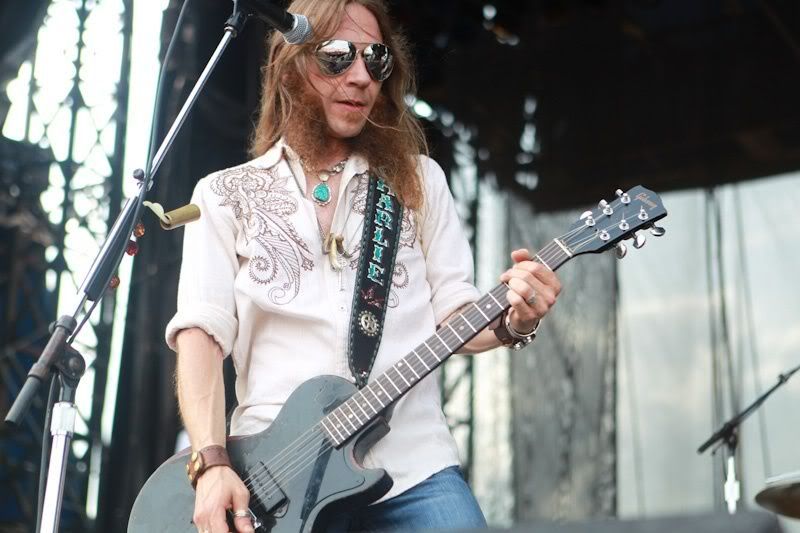 Randy Houser rocked it, Jamey Johnson was cool, Travis Tritt blew everyone away, and Hank Williams Jr. was legendary. Train was on a different stage but had a great show. We lost Hunter and missed some of the show trying to find each other, but the whole day was so fun and full of such good music.
Day three kicked off with a funnel cake and Jake Owen followed by Gretchen Wilson,

Rodney Atkins then the big show with Kenny Chesney.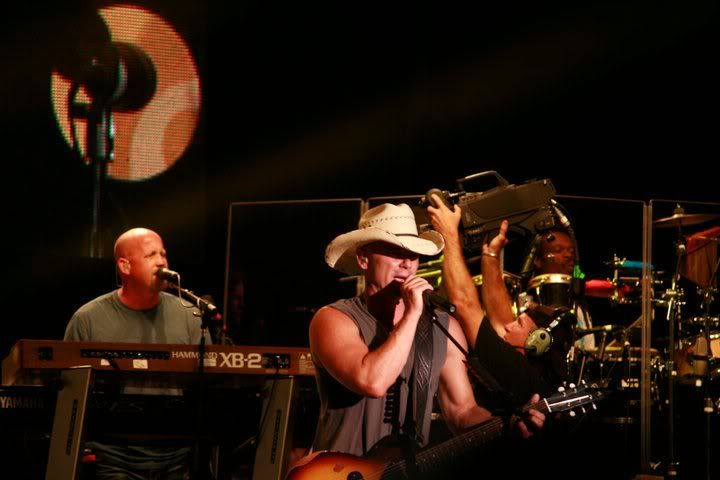 He played all the good songs and it seemed like every person in that field was singing along. I looked back at one point and all I saw were dots of people as far as the horizon. It's crazy to think a little town like Enterprise, Alabama can draw the kind of country music artists that played BamaJam and that almost 150,000 people would pile into a cow pasture to see them. I never thought I would be doing something like that, but it was quite an experience — scorching hot, sweaty, rainy, ridiculously humid, a little dirty, but definitely worth it. Great times with great music and I'm already waiting for next year's event!