There's been a lot of debate lately about when Miss Emery will actually arrive. Her official due date is April 9th, but judging by the size of my belly and discomfort level, it could really be anytime. Everyone in the family chose a date in March ranging from next week to the 31st (Lloyd's birthday). Everyone except for Mom. For reasons unknown, she chose some date in February and watched it sail by with no baby arrival. Didn't you believe me when I said she was due in April?
There is even a pool going at work with $1 per guess, winner takes all. If Emery comes on April 9th, I win the pot! So far the dates have filled up fast with only a few remaining. The first guess is this week — agh! — and goes all the way to one week past the due date — double agh!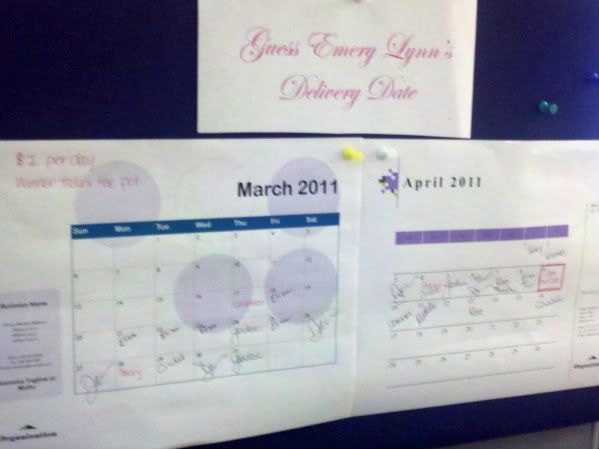 I'm not sure I'm ready for her to come this week but a month from now seems like way too long to wait. We need at least until the weekend when the chair for the nursery should be shipped. It's the only missing piece. Besides her, of course.
Meanwhile, I've been doing a little more cooking than usual, which Hunter is enjoying. I don't have much room for food, but I've been doing a lot of nibbling. These "Chocolate Wows" from Good Housekeeping turned out pretty well. I can always tell if something is a hit by whether there are any left when I get home the next day. In this case, there were only crumbs. It was pretty simple, if you'd like to try them:

Chocolate Wows

• 1/3 c all-purpose flour
• 1/4 c unsweetened cocoa
• 1 tsp baking powder
• 1/4 tsp salt
• 6 squares (6 oz) semi-sweet chocolate, chopped
• 1/2 c butter
• 2 eggs
• 3/4 c sugar
• 1 1/2 tsp vanilla
• 2 c pecans, chopped
• 1 c chocolate chips

1. Preheat oven to 325°. Grease two large cookie sheets. In a small bowl,
mix together flour, cocoa, baking powder and salt.
2. In heavy 2-qt saucepan, melt chocolate and butter over low heat, stirring frequently, until smooth. Remove from heat and cool.
3. In a large bowl, with mixer at medium speed, beat eggs and sugar until light, about 2 min., frequently scraping bowl with rubber spatula. reduce speed to low. Add cooked chocolate mixture, flour mixture, and vanilla; beat just until blended. Increase speed to medium; beat 2 min. Stir in pecans and chocolate chips.
4. Drop batter by rounded teaspoonfuls, 2″ apart, on cookie sheets. Wth small metal spatula, spread batter into 2″ rounds.
5. Bake until tops are shiny and cracked, about 13 min.
rotating cookie sheets between upper and lower oven racks halfway through
baking. cool 10 min. on cookie sheet. With wide spatula, transfer cookies to
wire racks to cool completely. Repeat with remaining batter.

Makes about 48 cookies.

Nutrition info (per cookie): 104 calories, 1 g protein, 9g carbohydrates, 8 g total fat, 3 g saturated fat, 14 mg cholesterol, 45 mg sodium